Resources for Building Your Own Home
You really can build your own home as an owner builder, taking on the role of the general contractor.  We've created a complete package of resources to help you make it happen.  A few of the major items included in The Complete Armchair Builder Product Package are...
New Home Schedule
e-Book:  A step by step guide to building a new home
Lot Purchase Guide - Avoid hassles and costly problems when purchasing the land
Bid Sheets - Get the best possible price for your new home
Sample Budgets - Don't forget any costs to build...our budget will help you avoid cost overuns
Quality Checklists - Hold your contractors accountable
And so much more...see complete details of all products available below
Our digital products are pdf documents available for immediate download.  This gives you quick access to our time and money saving resources.  Just click on the Buy Now buttons and the product you are interested in will be placed in your shopping cart.  Your checkout is secure and the link for the product download will be emailed to you in just a few minutes.  It's that easy.  (pdf documents require Adobe Reader which is available for free here if you don't already have it).  
---
The Complete Armchair Builder Product Package 

-

$183.87

 

$97.99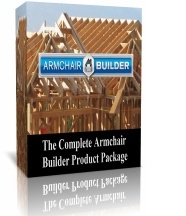 You can save over 45% by purchasing all of our digital products at the same time.  You save $85.88 when you purchase The Complete Armchair Builder Package (the kitchen sink if you will).  This complete package includes all of our individual digital products listed below for one low price.  
All of the Armchair Builder products in the package were created to work together.  Michael created them to save time and money on his projects.  They were perfected from his experience of building, remodeling, and repairing thousands of homes.  Trust us, you will save more on your project than the cost of the products themselves. 
If you are thinking of building something in the near future, get The Complete Armchair Builder Product Package today.

 Want to see some feedback from customers?  Check out our Armchair Builder reviews.
---
Individual Items for Sale:
---
Building a Home:  A Step by Step Guide - $9.99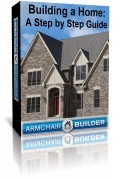 This guide takes you through the process of how a new construction home comes together.  This e-book guides you through the steps the pros use to build a quality home at a great price.
From creating a budget and selecting the right lot, to completing each major phase of construction, Michael breaks down a complicated process into easy to understand steps with tips and suggestions gathered over his many years of building experience.
Building a Home:  A Step by Step Guide is ideal for the person ready to build a new home and who wants to take on the role of the general contractor themselves.  It is also a helpful resource for anyone wanting to become more familiar with the building process, including those who hire the pros to build their homes, but want to be more informed consumers along the way.
Check out the video describing this E-book here.
Specifications (because it's what we do):
175 Pages
53 Steps
50,000+ Words
100+ Photos and Illustrations
1 Darn Good Book!  (We are probably biased of course!)

---
New Home Schedule - $12.99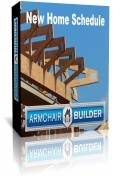 Whether you are building your own home as owner builder or having a professional home building company do it for you, the New Home Schedule resource will help you understand how a new home should come together.  In this resource we've included our schedule for the average two story home with a basement along with a description for each building activity to let you know what is being done, when it should be completed and why. We've also included a monthly view of the entire schedule to show how the building process progresses.
There really is a better way to build a new home...check out the New Home Schedule resource to see how it's done.

---
Lot Purchase Guide - $9.99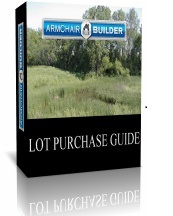 Buying your building lot or land is the first major step toward creating your dream home.  There are so many things to consider when looking at different properties.  In this guide, we discuss all of the important items builders review prior to purchase.  A few of the major items reviewed in this guide include...

- preventing foundation problems - building sites are not all the same
- house plan fit analysis - will your home plan fit on this lot?
- hidden costs to build - you need to know these prior to purchasing
- zoning - can you build your dream home on this property?
- utilities - are they all there and if not, what can you do?
- drainage and prevention of water issues
We've also included a few bonus items with this guide...
1) Lot Holding Cost Worksheet - For those of you looking to buy the property and build in the future.  This worksheet helps you understand your costs to hold onto the lot prior to building.  Did you know some communities have fees for availability of sewer or water service?  These sometimes apply even if you haven't built your home yet. How about insurance to cover your property?  Or maybe club dues?
2)  Lot Purchase Checklist - Helping you keep track of all of the important things to consider to make sure nothing is forgotten.
3)  Lot Purchase Cost Worksheet - As you look at different building lots and land, you will want to compare them.  The Lot Purchase Cost Worksheet helps define all of the costs needed to acquire and get the property ready to build.  Knowing this overall cost, will help you make an informed purchase decision.
If you're thinking about purchasing the building lot for your future dream home, you'll want to purchase this guide.  We've packed years of building experience into this compact guide that will help you avoid surprises and get the best lot available.  And if you purchase this guide and decide in the future that you want the rest of the Armchair Builder products to help you build your home, just let us know and we will credit the price toward The Complete Armchair Builder Project Package.

---
Scopes of Work and Specifications

- $29.99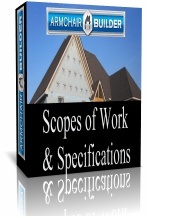 These are extremely important for all your projects.  Whether you are putting a new roof on your home or finishing your basement, the Scopes of Work and Specifications are critical to your success. When hiring trades and suppliers, you want to make sure they understand exactly what you expect them to do.  You also want everything you expect to be in writing and signed by them.  This will give you an accurate estimate (knowing they included all work in the price they gave you) and an accurate subcontract agreement; both are critical to prevent errors and legal issues.  The Scopes of Work and Specification gives the details of your expectations for each activity for your new building project. 
Can You Give an Example? Ok, let's say you are finishing your basement and are looking to hire an insulation company to keep your basement warm and comfortable.  What type of insulation do you want and what R-value?  Do you want any sound insulation in the ceiling?  Do you want the insulation contractor to provide a vapor barrier? Without a Scope of Work and Specification, you have no way of properly communicating what you want.  What about the interior walls of the basement, do you want those insulated so people in the rec room can't hear what's going on in the bathroom?  Your scopes will tell the insulation contractor exactly what you expect.  
What Activities are included?  Appliances, Cabinets, Cleaning, Countertops, Doors, Driveway, Drywall and Paint, Electric, Engineering and Staking, Excavation and Grading, Fireplace, Flatwork, Flooring including carpet, tile, hardwood, and vinyl, Foundation, Garage Doors, Garbage Containers, Gutters and Downspouts, Hardware, HVAC, Insulation and Draftstopping/Firestopping, Light Fixtures, Lumber, Masonry Labor, Mirrors and Shower Doors, Paint both Interior and Exterior, Plumbing, Roofing (asphalt), Rough Carpentry, Shelving, Siding, Soffit and Fascia, Soil Testing, Stairs (prefab), Steel Beams and Columns, Trim Carpentry, Trim Material and Doors, Trusses, and Windows.
Multiple Uses:  You will use the scopes when you go to get prices from subcontractors...telling them what to price out.  You will again use these documents as part of your contract agreement defining what work is included.  Yet again, you will use these documents when building your project to enforce the quality each day.  I have pulled out many-a-scopes of work to get subs to do the job in a quality fashion.
Value:  These documents can save you thousands of dollars on your project.  Early on in my career, I built a few houses without Scopes of Work and Speciifications.  On one project I signed a contract with a lumber supplier to provide all of the rough lumber for the home which amounted to over $10,000.  When the invoice arrived, it was $1000 over the contract amount.  The problem was, the supplier didn't include sales tax in the bid.  If I had used the Scopes of Work and Specifications, I would have saved $900 because I had another bidder that was that much cheaper including taxes!  So, the Scopes of Work and Specifications help to make sure you are comparing apples to apples on your bids and keep you from blowing your budget.
Get Them for Your Project: Our Scopes of Work and Specifications come from years of building experience.  You may need to make some minor modifications to suit your particular project, but these will give you a big head start.  Don't attempt to hire subcontractors without a detailed scope of work and specification as part of the agreement…otherwise, you are setting yourself up for problems.  And of course we prefer you purchase ours because they are the best, but if not ours, get them somewhere else...but get them.  Save yourself the hassles and poor quality of not having them.
Want to see a video describing the Scopes of Work and Specifications in more detail?  Click here
Want to see a sample Scopes of Work and Specification?  Click here.

---
Bid Sheets

- $29.99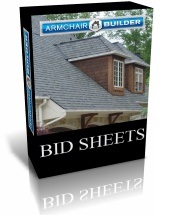 What is it?  A form that tells a company how you want their bid or estimate formatted.
What activities are included? We included all of the most common building activities (most of those listed above under Scopes of Work and Specifications)  
How about an Example?  Let's say you are finishing your basement and you are looking for a company to do the drywall.  You give them the Bid Sheet for drywall and tell them to fill it out.  When you get all of the drywall bid sheets back, you can quickly tell which company has the best price and why.
Makes Plan Changes Easier:  If you use a bid sheet, you will know what the price breakdown is for each activity.  Instead of giving you a lump sum price with no details, the bid sheet tells you how much it costs for a given quantity of work.  So for our drywall example, let's say you later decide to make your finished basement bigger. Because your bid sheet tells you what it costs per square foot of wall and ceiling to install drywall, you can estimate the new cost yourself.  This saves you the time of having to send the drywall company another bid package and new request for bid.
Saves Time:  After years of building homes, I realized that a good portion of my time was spent reviewing bids between competing subcontractors to see which had the best price. The problem was, each bid came back to me in a different format.  So, I created a standardized bid sheet for each activity telling the trade how I wanted the bid submitted.  This way, I could quickly and easily compare them.  Since you always want to get at least three bids per activity when building, you could potentially have over 130 bids to review for a new home! A finished basement isn't much easier with up to 45 bids to review!  Ugh! With our bid sheets, you can quickly compare and choose the best company for you.
Saves You Money:  The bid sheet price breakdown allows you to compare apples to apples (sorry for the cliche). If you don't use bid sheets and every drywall contractor gives you a lump sum price, how do you know they included everything?  I have had a whole bunch of trade companies give me the wrong estimated quantities because they counted wrong.  Many of these guys are out in the field all day and they do estimating and bidding at night after a long hard day.  If the lowest priced drywall company counts the drywall wrong and figures too much, you would never know it with a lump sum bid.  By having them break the price down, you can find the lowest possible price.
Need more information?  Click here to check out a video describing our Bid Sheets!
Want to see a sample Bid Sheet?  Click Here to see a sample.

---
The Builder's Daily Construction Guide

 - $29.99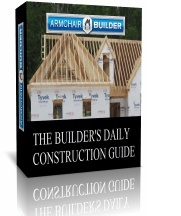 What is it?  It's a guide for the person managing the construction of a new home.  The guide lists each action item required for each day throughout the building process.  For each activity, there are items that must be done to ensure a quality home is built on schedule. 
Why Do I Need This? I like to use the example of an airline pilot to describe the role of The Builder's Daily Construction Guide.  An airline pilot that has been flying for 25 years still uses a checklist before every flight to make sure everything is good to go.  Why?  Because we all make mistakes and forgetting just one item before takeoff could bring catastrophic results.  Similarly, forgetting an item or two when building a home can lead to costly problems and headaches.  Included in this guide is a sample schedule with an introduction to scheduling.
Need more information?  Check out this video to find out more about this great guide!
Want to see a few pages from The Builder's Daily Construction Guide?  Click Here 

---
Build a New Home Process Overview

- $4.99

Building a new home is a complicated process…especially if you want to get it done quickly and in a quality fashion.  Our process overview outlines all the critical steps to be completed by the owner-builder in the order they should be completed prior to starting construction.

Should you buy your lot first or find a plan?  Or maybe you should get your construction loan first?  Our Build a New Home Process Overview will give you these answers.  Michael has built a lot of homes...believe it or not, over a thousand homes over his career.  Needless to say, the Build a New Home Process Overview has been refined a little over the years.

This detailed outline begins with "Assemble Your Team" and ends with "Get Permit."  It covers the subcontractor selection process, choosing a lot to build on, determining a rough estimate, and lots more.  

Don't know where to start the new home building process?  Or maybe a little intimidated?  Get a copy of the Build a New Home Process Overview.

---
New Home Budget (Ranch & Two Story)

- $7.99

What is it?  A detailed budget listing the line items for the typical new home build.  From construction loan costs to insurance, our New Home Budget will give you average costs and percentages for each major activity. 

How Will it Help Me?  It will keep you from forgetting any major cost items in your budget.  Can you list all of the cost items in a new home project?  Forgetting just one cost item can cause you to miss your budget and end up with a loan that is maxed out...on an unfinished home.

How Can the Percentages Help Me?  Let's say your bids for roofing come back and your gut instinct tells you the price is high.  Well, if you have our New Home Budget, you can compare your roofing cost percentage to the percentage in the New Home Budget to see if it is in line with the averages.  

In some parts of the country, certain trades are dominated by a few companies.  It is easy for them to do something similar to price fixing without you knowing it.  Meaning, even if you get three bids, they may all be high and not reflective of the actual costs.  The percentages in our New Home Budget will help protect you in that case by identifying the bids as being higher than the average.

---
Subcontractor Information Sheet

- $7.99

What is it?  It's a form that has all of the important info you need on any company you hire to do work on your home.  

Can You Give Me an Example?  Think of the last company you paid to do work on your home.  Maybe a roofer or a plumber for example.  Do you know their license number?  How about their insurance company?  When you hired them, did you get references?  These are all items included on the Subcontractor Information Sheet. 

Saves Time:  This sheet keeps you organized by keeping all of the crucial info about each company you hire all in one place.  Do you know the email address of the guy that refinished your bath tub? My guess is...probably not, but wouldn't it be easier to communicate with him if you did?  All contact information is on the Subcontractor Information Sheet so you will have it when you need it.

Saves Money:  Need to verify the insurance for a company you are thinking about hiring to work on your home?  Go to the Subcontractor Information Sheet you had them fill out along with their bid...it has the insurance company, agent's name and phone number.

Get the Subcontractor Information Sheet and get organized.

---
Troubleshooting Guide (For Homes)

- $14.99

No matter how diligent we are with our quality initiatives, we will experience a problem or two with each new building project.  Having built hundreds of homes over the years, we've had the opportunity to experience just about everything that can go wrong with a home.  This guide contains common problems that occur with new and old homes.  The Troubleshooting Guide lists each problem and walks you through the troubleshooting steps.  For each root cause we have provided the most economical solutions.  At the end of this guide, you will find the Homeowner Maintenance & Annual Checklist.  By performing this checklist once a year, you will keep your home working properly and will help prevent some of the problems discussed.

Some of the items in the Troubleshooting Guide are…drywall cracking, concrete floor crack, dark markings on walls and ceilings, doors that stick or rub, electrical outlet not working, floor noises, hardwood floor gaps or ridges, leaking roof (asphalt), no heat (gas furnace), no hot water (gas water heater), smells, warm or cold room, water coming in through basement window, water in basement, water leaking in window, water standing in yard, and window condensation.

---
DECK Bid Package - $6.99
So you've decided to have a deck contractor help build your deck.  This DECK Bid Package will help you get multiple bids for your deck so you can easily compare companies.  The prices will be broken our into both material and labor, and then down into the individual components.  Think you might want to install the rail yourself?  By using the DECK Bid Package, you will know exactly how much you will save to see if it's worth your time.  Or maybe you are considering some low voltage lighting on your deck...the bid sheet will tell you what that will cost.  The package also includes a detailed Scopes of Work and Specification just for decks so no detail will be forgotten.  Not only will this be good for bidding, it will also be a critical component you will want to include in your contract.
Save money and hassles...with the DECK Bid Package

---
Glass Tile Backsplash Installation - Quick Guide - 
$7.99
This guide gives the DIY'er a quick reference for installing a quality backsplash.  You can save hundreds of dollars by installing your own backsplash.  It's totally possible, even if you have no experience.  You need a little patience, and of course, our Quick Guide.  We cover materials and tools needed, installation steps, FAQ's, and money saving tips.  Get the guide and get started on creating a fresh look to your kitchen today.

---
Roof Replacement Bid Package - $9.99
When hiring a company to replace a roof, you want to make sure you are getting a quality product for the best price.  Whether you are replacing an existing roof or installing on a new home, a roof can cost tens of thousands of dollars.  Using our bid package to get prices will allow you to easily compare companies and products.  This package includes the Subcontractor Information Sheet, Bid Sheet, and Scopes of Work and Specification.  This package will allow you to communicate quality requirements and tell each bidder how you want the prices broken down.  When used properly, this bid package can save you hundreds of dollars on your new roof.

---
Disclaimer:
All products for sale in the Armchair Builder ESTORE are provided without any warranty, express or implied, as to their legal effect and completeness. Please use at your own risk. We strongly suggest you consult an attorney, building professional, and architect in your particular building location prior to using any of these materials. These local professionals will review all documents and procedures for completeness and applicability to your particular circumstances before you begin. The creators of Armchair Builder, R. Wave Partners LLC, do not provide legal advice. These materials are provided "As is" without any express or implied warranty of any kind including warranties of merchantability, non-infringement of intellectual property, or fitness for any particular purpose. In no event shall R. Wave Partners LLC or its agents or officers be liable for any damages whatsoever (including without limitation damages for loss of profits, business interruption, or loss of information) arising out of the use of or inability to use the materials, even if R. Wave Partners LLC has been advised of the possibility of such damages.  Product images above are for illustration purposes only.  The actual product you receive is in digital form and does not include a physical book, box or product of any kind.

Copyright Notice:
Your product purchase for download from the Armchair Builder site is for your personal, noncommercial use only. You may not alter or remove any trademark, copyright or other notice from copies of the content.